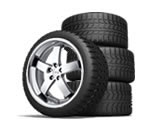 Ready Wheels is not only dedicated to providing the nation's largest selection of tires, wheels, and rims – we're also committed to building a partnership with each and every one of our clients. That's why we've expanded we're very active on social media, building connections and networks with our clients so that we can better serve them.
Indeed, you can find some of our best deals and discounts through our social media accounts on Facebook, Twitter, and Blogspot. You'll receive up-to-date alerts on Cheap Rims and wheels, learn about any new or expanded line-ups, and get the latest information on the various services we offer.
Our wide assortment of Cheap Wheels, rims, and tires includes almost all major types, sizes, styles, and models. From sports cars to heavy-duty trucks, you're bound to find exactly what you need at the right price.
Each item we carry has a detailed profile that provides specifications, images, product description, and other important information. You can browse through our extensive collection manually or utilize an advanced search option to find the exact wheel you need based on brand, diameter, size, and style. As always, our experienced and well-trained staff is available to offer trustworthy advice on which brands or types will best suit your needs.
While all the brands we carry are already competitively-priced, you can save even more money if you by any wheel as part of a wheel-tire combo. Not only do you get unbeatable deals, but you'll enjoy such exclusive perks as free shipping, a free installation kit, and free high-speed tire mounting and balancing.
Even great deals like this might be easily-missed, which is why Ready Wheels takes the extra step in making you you're informed. We'll keep you in the know about the best products on the market, so that you can find exactly what you need at the lowest price available. As fellow car enthusiasts with years of industry experience, we're more than happy to help.
Follow us on any of the aforementioned social media accounts and start saving today. To learn more, call Ready Wheels at 877-473-2399.