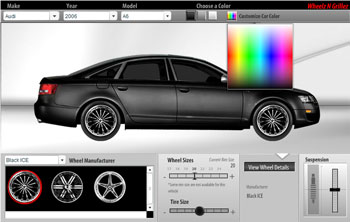 As the nation's leading supplier of wheels, Ready Wheels has always been at the forefront of customer service, delivering a level of client satisfaction that is only matched by our extensive selection of top-of-the-line items. In the spirit of delivering only the best to our clients, we're proud to unveil our latest effort at enhancing your shopping experience: the unique and innovative Wheel Visualizer.
This convenient feature allows you to preview how our custom wheels will look on your vehicle from the comfort of your home. The high resolution images will give you as crisp and realistic an image as possible. With this innovative option, you can select the exact make and model of whatever car, truck, or SUV you own need, thereby allowing you to make an informed and confident purchase.
If you can't find your automobile, don't worry – we're constantly working on expanding our selection to accommodate our diverse clientele. So check back regularly to see the growing options you have at your disposal.
As dedicated car enthusiasts with years of experience, we understand that it's difficult get a clear picture of how certain wheels will look on your vehicle, especially if you'll be ordering from online. Thus, in addition to the Wheel Visualizer, Ready Wheels happily guarantees every tire, wheel, and rim we sell.
This is one of the many ways that Ready Wheels is constantly striving to optimize your shopping experience. From easy paperless financing to help you on your big projects, to affordable and convenient tire and wheel combo packages that help you save money, there's simply no better place to find excellent and Cheap Wheels, rims, and tires.
To learn more about what we can do for you, call Ready Wheels at 877-473-2399.